Shopping Cart
Your Cart is Empty
There was an error with PayPal
Click here to try again
Thank you for your business!
You should be receiving an order confirmation from Paypal shortly.
Exit Shopping Cart
Tattoos are not as taboo as they once were. They are everywhere - on celebrities, on doctors, on housewives, sports figures and even on the arms of those who have beat cancer. 
Did you know that evidence of ancient tattooing has been found on every continent in the world?
Otzi, the famous Alpine mummy, is thought to be over 5000 years old. It was discovered that he has more than 50 tattoos all over his body!
The Inuit of Alaska and Canada tattoo themselves to protect various parts of their bodies from disease. They believe that each joint has a soul so they tattoo them to keep the joints strong.
In magickal practice, the art of tattooing is utilized to turn the skin into a living amulet. Your skin is sacred and because its part of you, it already holds so much energy. Thoughtful designs, symbols and placement combine to manifest magick in its physical form.
For me, every one of my tattoos is a magickal statement.
I have a tribal sun with a small yin yang that covers a scar on my back. The scar was ugly and vicious. To me, the tattoo that covers it reminds me that I have come to terms with my past. My past self and my current self are in complete harmony with each other. I wont be hindered on my path and always, the sun rises.
I have a large tribal sun with a delicate human face that takes up most of my lower back. This sun is one of my personal talismans. Like the smaller sun, it reminds me that I will always rise up, no matter what tries to drag me down. It reminds me to be good to others and not to harbor anger or resentment. It keeps me grounded in so many ways. It reminds me that life is short and to find joy in all things.
I have several dragon tattoos. 5 of them. Each of them is meaningful in their own right. (Fun fact: Raven and I have matching dragon tattoos!)
As a whole my dragons remind me that I am a protected, strong, powerful, beautiful, loving, vicious woman, friend and mother. They remind me to fight viciously on behalf of those I love and to never back down for a cause I believe in. They are a constant reminder that I am a magickal-born woman and even when I feel like I don't have one ounce of magick left in me, that in the morning I shall rise refreshed and as powerful as the dragons that live upon my skin.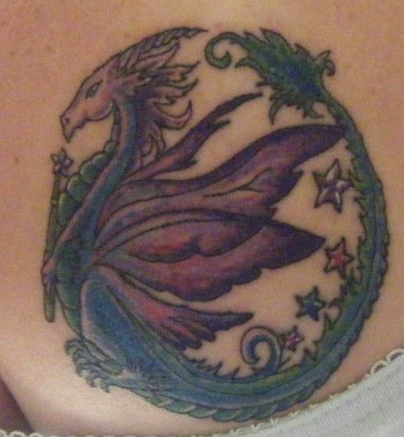 Do you have tattoos and if so, what do they mean to you?




Categories: Knowledge Base

0

/