Shopping Cart
Your Cart is Empty
There was an error with PayPal
Click here to try again
Thank you for your business!
You should be receiving an order confirmation from Paypal shortly.
Exit Shopping Cart
Did you ever make daisy chains as a child?
When I was young, it was pretty common to see many of the young girls in our neighborhood with daisy chains upon their heads thanks to my grandmother who had an entire field of daisies behind her house.
So where did the idea behind daisy chains come from?
Daisy comes from the term "day's eye," as the daisy opens at daybreak and closes at dusk.
It is a symbol of luck, innocense, and survival.
During midieval times, knights wore daisies as tokens of love.
Daisies were often plucked and placed under pillows to promote dreams of love and of lovers.
They are also carried in yellow pouches in a purse or worn about the neck to attract a general sort of luck.
Daisy chains, often crafted by a mother, grandmother or soon to be mother in law, have been worn upon the heads of brides and bridesmaids as symbols of luck, love and committment for as far back as anyone can remember.
Did you know that a daisy can adapt to almost any growing conditions? Its true. They can be planted almost anywhere.
A daisy can be mowed down, picked and trampled on and still, each year, the flower will grow back.
So...how can you make your own daisy chain?
Find some daisies - they can be wild or purchased or even grown in your own little garden.
Youll need enough to create a crown.
Take your thumbnail and slit a small hole in the stem of each daisy.  Youll want to do this in lower portion of the stem just high enough to make it stable. Then take the next daisy and gently pull the stem of the daisy through the hole you created with your thumbnail.
Do this over and over again until your string of daisies is big enough to encircle the top of your head.
Once you're ready to connect the daisies, create another slit in the stem of the first daisy towards the top of the flower and insert the head of the last daisy to complete your circle.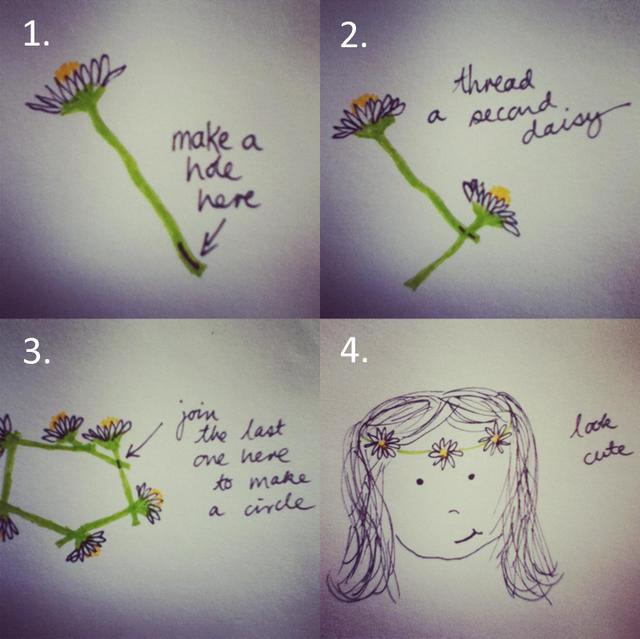 Categories: Knowledge Base

0

/